As we age, our production of collagen, elastin, and levels of hyaluronic acid decrease while damage from free radicals and enzymes that age our skin and organs increase. Every day, enzymes are attacking our cells and causing our skin to wrinkle and age. The benefits of supplementing with collagen and hyaluronic acid have been well studied and scientifically verified.
Collagen Daily combines premium Collagen Peptides with Enzyme Inhibitors plus Hyaluronic Acid to deliver results like no other collagen product. Slow down aging by neutralizing damaging enzymes and boosting your collagen levels. This patent pending formula with enzyme inhibitors super charges the anti-aging benefits that you and others will see every day.
Dr. Prasad's research has uncovered natural enzyme inhibitors that can neutralize the "bad enzymes" such as collagenase, hyaluronidase, matrix metalloproteinases, elastase, and free radicals. Collagen Daily is the only supplement available with enzyme inhibitors to further increase collagen production.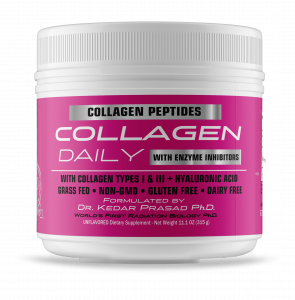 Collagen Daily
Collagen Peptides Enhanced with Anti-Aging Enzyme Inhibitors and Hyaluronic Acid
Collagen Daily promotes:
Replenishment of the Body's Collagen
Enzyme Inhibitors further increase Collagen Production
Restoration of Skin Moisture and Smoothness
Anti-Aging by improving Young Looking Skin Texture
Skin Elasticity
Reduces Skin Wrinkling and Sagging
Hair and Nail Health
Joint Pain Relief
Bone and Muscle Health
Strengthens Tendons and Ligaments.
Collagen Daily is:
Non-GMO
Gluten Free
Dairy Free
Grass Fed